Among the photo competitions in the world, there should also be an opportunity to present photographs that evoke the humor of animals. The Comedy Wildlife Photography Awards is a good place to submit for it. This will also contribute to the year 2021. The competition for the internationally acclaimed animal comedy photographs is a search for award winners has begun.
This competition has been running since 2015. The recent outbreak of the coronavirus pandemic has made it difficult for photographers to travel to various places to take photographs. But overcoming all these obstacles and facing those challenges, a large number of photographers entered the 2021 competition. More than 7000 photographs have been submitted. The judges will select the winners for the awards from these photographs.
The competition will be held elsewhere under 'Wildlife photography'. This is done to make an impact in the world of photography. Its purpose is to bring to the world the message of saving and protecting the animals that are fit for this world, just like us.
10% of the proceeds from this year's competition will be given to the Save Wild Orangutans Fund. It is used to protect and conserve the Orangutans in Borneo. By collecting photographs of animals with funny actions from all over the world, this sublime work is done and attention is drawn to even the most talented photographers.
The judges will announce the winners and at the same time, the openings for next year's competition will begin. If you are a photographer who enjoys animal,s activities, this competition will be a great opportunity for you.
Below is a series of photos submitted by some of the finalists. Look at them and leave your comments in the box below. Share with us.
More info & Photo source: Comedy Wildlife Photography Awards | Facebook | Instagram
#1
"Time for school" by Chee Kee Teo, Singapore.
Animal: Smooth-coated otter
Location of shot: Singapore
"A smooth-coated otter 'bit' its baby otter to bring it back to and fro for swimming lesson."
#2
"See who jumps high" by
Chu Han Lin, Taipei, Taiwan.
Animal: Mudskipper
Location of shot: Tainan, Taiwan
#3
"The Comedy Wildlife" by
Gurumoorthy Gurumoorthy, Chennai, India.
Animal: Indian chameleon
Location of shot: Western Ghats
#4
"Monday Morning Mood" by Andrew Mayes Randburg, South Africa.
Animal: Pied Starling
Location of shot: Rietvlei Nature Reserve
"I took this shot while photographing a group of Pied starlings perched in a tree at the Rietvlei Nature Reserve in South Africa. It perfectly sums up my mood on most Monday mornings."
#5
"Don't Worry. Be Happy" by Axel Bocker, Germany.
Animal: Dragonfly
Location of shot: Hemer, Germany.
"A Dragonfly early in the morning on a flower looks into my camera and it seems as if it laughing. The year 2020/2021 was very hard for everybody because of Corona. But when you go outside and watch carefully the Beauty of our nature, then problems seem to get less for me. So if I have a bad day this image makes me give a smile back."
#6
"Foot Jam" by Brook Burling, Wisconsin Rapids, United States.
Animal: Raccoon
Location of shot: Wisconsin Rapids WI
"There is a great big pine tree with a small to the medium-sized hole in it near my house where a young raccoon has called this home for the past year. Well, this year it appears that the little raccoon has outgrown its tiny home as it barely fits!"
#7
"Monkey riding a giraffe" by Dirk-Jan Steehouwer
Noordwijk, Netherlands.
Animal: Monkey and Giraffe
Location of shot: Murchison Falls NP, Uganda
"During a game drive, we found a group of monkeys playing around with each other, jumping up and down from a bare branch. It was a joy to watch. After a while, I saw a giraffe coming from the right. By the moment the giraffe did pass the branch, one of the monkeys was on his post to ride the giraffe."
#8
"Chinese Whispers" by Jan Piecha, Kassel, Germany.
Animal: Raccoon
Location of shot: Kassel, Germany
"The little raccoon pups are telling secrets to each other."
#9
"Missed" by Lea Scaddan, Perth, Australia.
Animal: Western Grey Kangaroo
Location of shot: Perth, Western Australia
"Two Western Grey Kangaroos were fighting and one missed kicking him in the stomach."
#10
"Mr. Giggles" by Martina Novotna, Elvington, United Kingdom.
Animal: Grey seal
Location of shot: Ravenscar
"Grey seal pup appears to be giggling. I loved the expression captured. It looks so human-like. I was lying on a rocky beach for hours, as motionlessly as possible, patiently waiting for seal life to unfold around me. This seal pup came onto the shore for a bit of rest and ended up sleeping on its chosen rock for hours before the incoming tide forced it to move more inland. Occasionally, it would stretch and yawn and it was one of the yawns that led to this expression, looking as if the seal was giggling."
#11
"How do you get that damn window open?" by
Nicolas de Vaulx, Draguignan, France.
Animal: Raccoon
Location of shot: France
"This raccoon spends his time trying to get into houses out of curiosity and perhaps also to steal food."
#12
"Sweetlips are for kissing!" by Philipp Stahr, Mannheim, Germany.
Animal: Boxfish
Location of shot: Curaçao, Dutch Caribbean
"Usually boxfish are difficult to take pictures of since they do not have a problem of a diver coming close, but if you show interest, they always turn the back and not the face to you. That's why I tried to swim 0.5m above the fish and showed no interest at all in him. At the same time, I had my camera not in front of me, but below at my chest pointing to the bottom. When the right moment came, I turned the camera 90 degrees to the front and just pointed and shot, hoping to have the fish in focus. Never expected to have its beautiful lips that close!"
#13
"I Got You!" by Kranitz Roland, Agfalva, Hungary.
Animal: Spermophile
Location of shot: Hungary
"I spent my days in my usual 'gopher place' and yet again, these funny little animals haven't belied their true nature."
#14
"Smoked Deer for Dinner" by Siddhant Agrawal, Pondicherry, India.
Animal: Tiger
Location of shot: Jim Corbett National Park India
"I have been following the family of a tigress called Paaro in India's Jim Corbett National Park for many years. This is her daughter who has stood on her hind limbs to be able to scratch her face with a log. But, it appears as if she is carrying the log on her shoulders."
#15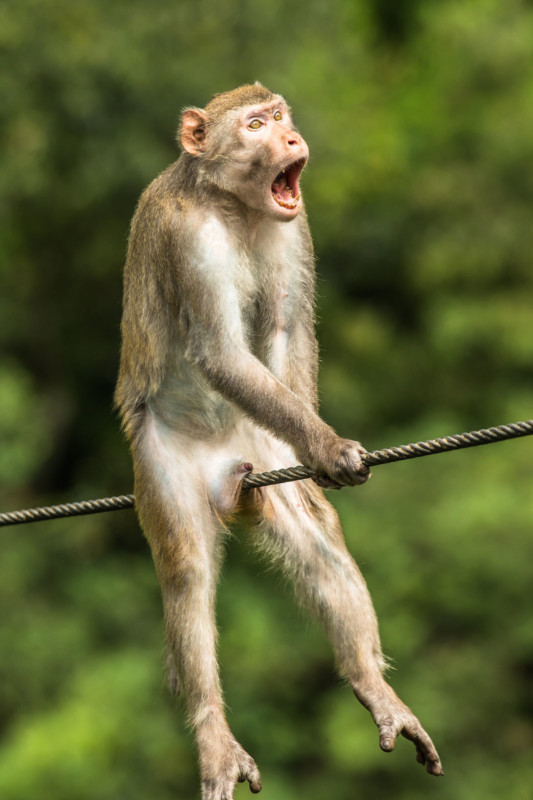 "Ouch!" by Ken Jensen.
Yunnan, China.
"A golden silk monkey in Yunnan China – this is actually a show of aggression however in the position that the monkey is in it looks quite painful!"